GHV & West Hancock Homecoming Royalty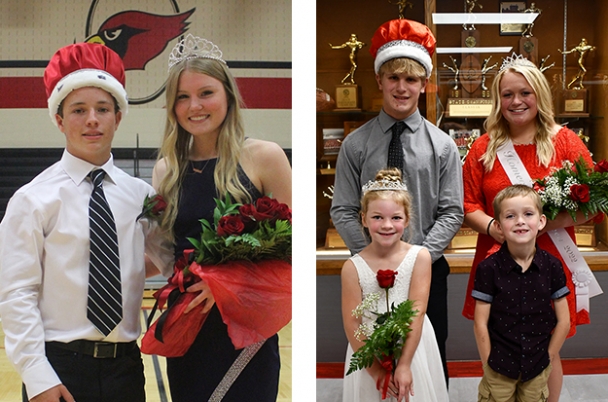 Left: Homecoming Royalty for 2022 at GHV are King  James Cash, son of Jessica Gundalles and Pete Cash; and Queen Emily Van Dusseldorp, daughter of Scott and Angie Van Dusseldorp. They were crowned on Thursday, Sept. 22. Rebecca Peter | The Leader
Rght: Homecoming royalty for 2022 West Hancock are seniors King Jackson Johnson, son of Dallas and Angie Joohnson, and Queen Dru Hagen, daughter of Travis and Jamie Hagen. A prince and princess from the kindergarten class were also crowned: Princess Everly Wilson and Prince MsCoy Eekhoff. Mariah Hagen photo
More homecoming highlights for Garner-Hayfield-Ventura and West Hancock are in the Sept. 28 print edition of The Leader.
Category:
The Leader
The Leader 
365 State Street, Garner, IA 50438
Phone: 1-641-923-2684
Fax: 1-800-340-0805
Mid-America Publishing
This newspaper is part of the Mid-America Publishing Family. Please visit www.midampublishing.com for more information.