Doris Leuwerke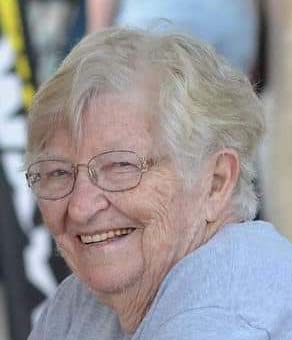 BRITT – Doris (Limberg) Leuwerke, 91, of Britt went home to the Lord on August 16, 2021 at the Hancock County Memorial Hospital in Britt with family at her side.
Funeral services Doris Leuwerke will be held on Friday, Aug. 20 at 10:30 a.m. at the Britt Christian Reformed Church - At The Crossroads Ministries, 569 Main Avenue North in Britt, with Pastor Joel DeBoer officiating. Burial will be in Evergreen Cemetery in Britt.
Visitation will be held on Thursday, Aug. 19 from 5 to 7 p.m. at the Britt Christian Reformed Church – At The Crossroads Ministries and will continue one hour prior to services at the church on Friday.
Doris Arlene (Limberg) Leuwerke, daughter of Conrad and Marie (Meyer) Limberg, was born on June 4, 1930 on a farm by Woden. Doris attended school in the Woden school district which she graduated from in 1947.
Doris was a lifelong member of the Christian Reformed Church attending the Woden CRC where she met Pete. She was united in marriage to Pete Leuwerke at the Woden Christian Reformed Church on April 16, 1947. In 1955, along with Pete and seven other couples, established the Britt Christian Reformed Church, where she remained a faithful attending member. She served on several committees and was a Sunday school teacher. Doris was the last surviving original charter member of the Britt Christian Reformed Church.
Doris and Pete farmed together for sixty-five years near Crystal Lake. In 1989, they moved to Crystal Lake and established and operated Leuwerke's Café. They couple later retired and moved to Britt.
One of her favorite pastimes was traveling and camping with her family. She and Pete took many trips including a six-week trip through Canada and Alaska with a pickup and topper, a trip to Holland and spent several winters in Texas. She enjoyed quilting, a passion she learned from her mother and continued doing until her passing. She also enjoyed reading, gardening and putting together puzzles. She was an avid collector of all things. She and Pete attended auctions and hunted for treasures.
Dearest to her heart was family. Being a Mom to her children, a Granny to her grandchildren and a GiGi (Great Granny) to her great grandchildren was her life. She was most happy when she had her family around her.
Left to cherish her memory are her children, Denny (Sue) Leuwerke of Panora, Ron (Beth) Leuwerke of Indianola, Arvella (Greg) Kent of Waterloo, Randy (Brenda) Leuwerke of Eldridge, Missouri and LaRae (Dale) Haugland of Britt; 14 grandchildren; 34 great grandchildren.
Welcoming her home are her parents, her father-in-law and mother-in-law, Pete and Grace Leuwerke, husband Pete (2017), her brother Don and wife, Mavis Limberg, Ken and wife, Bev Limberg, her sister Mavis Weaver, her grandson Ryan Kent and daughter-in-law Donna Leuwerke.
Ewing Funeral Chapel
178 Center Street West
Britt, IA 50423
641-843-3839 • www.ewingfh.com
Category:
The Leader
The Leader (Garner Office)
365 State Street, Garner, IA 50438
Phone: 1-641-923-2684
Fax: 1-641-923-2685
The Leader (Britt Office)
49 Center Street W.
P.O. Box 321
Britt, IA 50423
Phone: 1-641-843-3241
Mid-America Publishing
This newspaper is part of the Mid-America Publishing Family. Please visit www.midampublishing.com for more information.